It's the last week of the year and I'm getting tired of hearing all of the "round-up" broadcasts...the year's best of this & that. Funny, but when you're just living through each day at a time, it doesn't seem like they're each competing for "day of the year".
I was brought down to earth today when I had to stop my car for at least a minute while this determined, yet slow, turtle crossed the street. It helped put things into perspective for me.
THANKS to so many of you who contacted me with suggestions of who might be able to babysit Twinkie while I'm gone, and especially the very beautiful (inside & out) Carol , who will be hosting her during this trip. It's amazing what a loving community we've become!
I've just finished decorating a batch of Holiday Moose Cookies
and I want to wish you the happiest holiday season & the best New Year.
As you probably know I'm off to share an amazing week with my kids & their loved ones in Tulum, Mexico. Hopefully the five years of Spanish language instruction I received in NYC schools & college, & time spent in Spain, will come in handy. Hola!! The only time I was in Mexico was Jan 1968 for my honeymoon. He warned me not to eat any street food (could be puppy dogs) or tap water (aughh). So for a week I lived on fresh pineapple, snapper caught & grilled on the beach, and boring consomme. I returned to NYC 10 lbs lighter and smiling, but VERY HUNGRY!!
Thought I'd be smart and check with the TSA about what's currently allowed to be brought on board. Very interesting, and it will certainly influence my packing.
Snow globes that appear to contain less than 3.4 ounces (approximately tennis ball size) will be permitted if the entire snow globe, including the base, is able to fit in the same one clear, plastic, quart-sized, re-sealable bag, as the passenger's other liquids, such as shampoo, toothpaste and cosmetics. YEA
Parachutes

,

Security officers will not unpack a parachute without the owner present to provide assistance. If we cannot locate the parachute owner, the uncleared parachute will not be transported on the flight.

DAMN

Have to leave my WWII Japanese parachute at home.
Knitting needles
are permitted in your carry-on baggage or checked baggage with the exception of
circular thread cutters,
whatever they are.
DAMN
Most important for me, is the fact that people are working hard to protect my security. Well, that's not really true since my identity was stolen last year...but I've bought someone else's identity since, so who cares. Here's what the folks guarding us have to say: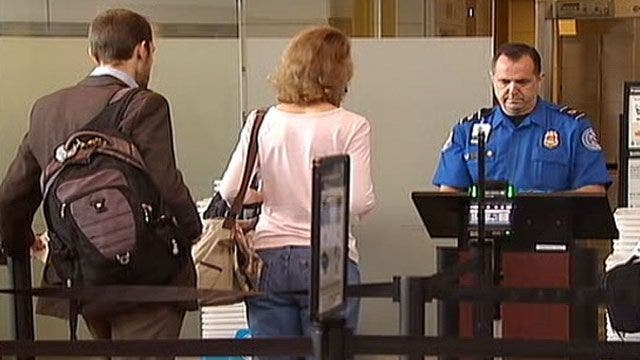 We care about privacy and are fully committed to the appropriate handling of individual information entrusted to us. Our primary mission is to protect the security of the nation's transportation systems to ensure freedom of movement for people and commerce. Our relationship with you is one of our most fundamental assets and we will do our best to respect and protect the privacy of individuals affected by our transportation security activities.
We do this by collecting, maintaining and disclosing information about you in accordance with Federal privacy laws and regulations.
Travelers can now begin the application online for TSA Pre✓and make an appointment to visit an enrollment center to finish the process. The first enrollment center will be located in Indianapolis International Airport. TSA plans to open additional enrollment centers in the New York City area, the Washington, D.C. metro area and in Los Angeles. By the spring of 2014, the TSA plans to have more than 300 enrollment centers open around the country.
Check the Transportation Security Administration website
for details.
The cost will be $85 for five years. Don't you love being treated like a VIP?
I'll be back posting on January 6, 2014 about what I'll be baking that week. Who knows, it could have a Mexican flare?
Hugs from my 2013 kitchen,
Bonni